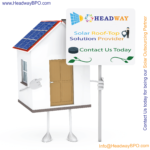 When we talk about Solar we talk about our existing client base in the solar sector and existing backend outsourcing service provider for them. Solar with the new enactments has been quite a booming industry and we are happy to announce our entry to Roof-Top Solar Plants which may add our existing base to next level.
Here is a brief Summary of what all we do for Solar Clients:
Headway BPO Solutions – Company defined for proven Solar Sector Sites and Industry outsourcing solutions with highlights in the fields of Finance (Accounts Payable, Accounts Receivable, Centralised Head-office Accounting, Site-Based Employee Placement, Vendor, Bank and Land Reconciliation, Direct and Indirect Taxation Handling), Quality (Defined Scalable processes, Project Management and Control, Automation in existing process), Legal (End to End Contract Management, Legal Research Services) and Reporting (Real Time Management Information System, Periodic Dashboard) with many other fields.
Here is a further detailed level of what services we offer end-to-end for the Clients:
Head Office accounting
Accounts Payable
Accounts Receivable
Vendors Reconciliations / Bank Reconciliation
Invoice Solution via technological improvements like AP workflow
Streamline the entire process
End to End Contract Management
Indirect Taxation (WCT etc.)
Project Accounting
Project Management and Control (PMC) Team of Management professionals at Project Sites
Real-Time MIS (Management Information System)
Solar Outsourcing Service Provider Scope
– Centralised HO Operations
– Roof-Top and Field Solar Projects Outsourcing Solutions
– Site Accounting and Resourcing with Real-time MIS Reports
– Project Management and Control
– End-to-End Proven Base Deployment Solutions