Headway BPO Solutions – Outsourcing Partner in Rural BPO India
The BPO sector is the fastest growing industry in India which employed more youth than any other industry. Today Outsourcing BPO services are known for cutting costs and improving organizational efficiency. This industry is well versed in India and provides employment to the mass population.
BPO services are known for lower cost and efficient service, but the rising salaries and other costs make them difficult to survive in bigger cities. These changing outsourcing trends lead to emerge rural outsourcing that is a cost-effective alternative to running outsourcing services in metros and cities.
Rural BPO Services are cheaper and though the workforce gets similar perks as those in the cities. It also brings employment to villages and small towns.
HBS Benefits – Rural BPO Services:-
Headway BPO Solutions (HBS) are backed by an experienced management team and supported by Industry Leaders and global investors. All team members are experts in different key areas of Operations, consultancy, development and technology.
Headway operates in hubs and spokes model, it is focused on providing underprivileged rural youth on various skill development training then with sophisticated employability solutions and sustainable employment opportunities.
Headway offers its employees an opportunity to support their seasonal family income with a steady monthly income without having to migrate in big cities and metros. Over the long haul, the company aims to imitate in rural locations the onsite-offshore model implemented by the BPO industry to outsource back-office work from areas in developed economies to offshore tier-1 cities in India.
The Company's Vision:
Create a top tier BPO conveyance capacity.
Generate financial opportunity.
Contribute to incorporated community improvement.
Business Model:
Hubs and Spokes Model: We at Headway follow Hubs and Spokes Model which allows us to be on terms with Cost Arbitrage, Reverse Migration, Local talent and High Retention. This makes us profitable for the Employees as well as our Clients making us more reachable for a Client Centric approach.
This can be brought to focus with each of our resource center allowing us to manage work as per the costing and expertise designed for the process. Hence, it is easier for us to make our clients more satisfied as per the costing and quality measures. Also, due to the Hubs and Spokes model advantage, the Hub becomes the process segment owner making sure that the process is streamlined with continuous benchmarking, and we continue to provide our clients with Flexibility & Adaptability as per their Specific Requirements. This further brings in an addition to our long-term Business Value vertical for our clients by working more efficiently reaping benefits to all.
Why Headway: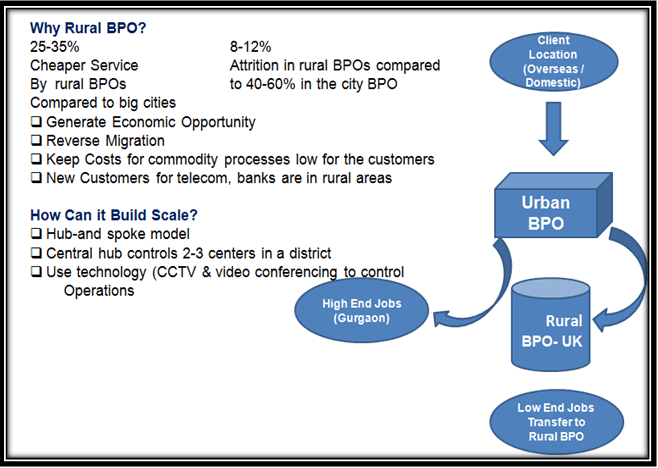 Nature of Services that can be provided:
Publishing:
International Publishing Company – eBooks creation – Books converted to EBooks in various format , Adobe, EPUB & Proprietary Format
Digitization and data conversion – XML Tagging Legal Judgments received in scanned form ,
extracted data with OCR, tagged XML as per data structure, Output XML file
Legal:
LPO in India and Abroad – Contract Abstraction Objective coding of legal documents; Review of documents, Extraction of key fields; summarization of information
Financial Services and Accounts:
India's Leading BPO / KPOs – Financial Data , MIS , AP , AR , Bank Statement & Reconciliation
New Customer Accounts Set up , Customer application form verification and new customer account setup
Value Proposition: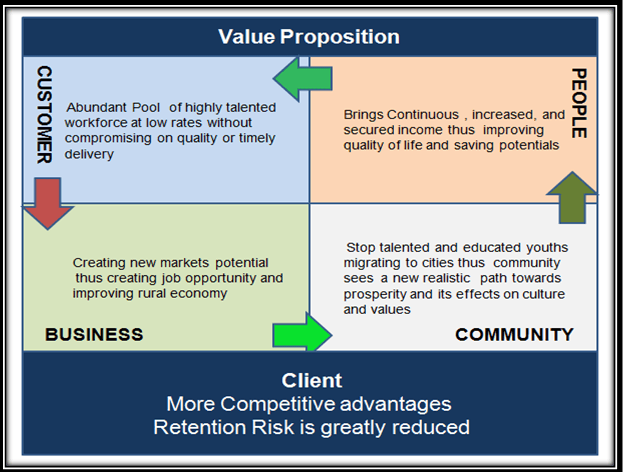 The Social Dimension of the Project:
1. Economic Return: The most critical positive effect of Headway is the financial return accumulating to the youth because of picking up work in the organization. In an area where the normal family unit salary ranges from Rs 5000 ($78) to Rs 8000 ($124) every month, youth employed at HEADWAY acquire Rs. 10,000 ($155) to 15,000 ($233) p.m.
2. Reversing nearby migration: Another significant pattern is turn around neighbourhood relocation. Before joining Headway, money related weights combined with the bait of corporate life pulled in a few young fellows to neighbouring towns and urban areas despite the fact that these were normally low paying, dissatisfactory employments. These youths currently observe motivation to remain back in their towns and even come back from adjacent towns.
3. Transforming Lives: Several representatives have communicated how their lives have changed for the better since they started working at Headway. For a few, essentially the daily schedule of coming to work each day has made them progressively skilled, capable people who currently gets more regard at home.
4. Local Economic Development: Headway is additionally prodding neighbourhood financial development, where our centres are operated. The organization skills young, educate girls and women to be self dependent that leads a better future for them.